If you are seeking access control installation services, C&I Show Security Systems is your number one provider!
This article will touch on the following topics:
Access Control Installation In Phoenix, AZ
Based in the Phoenix Area, C&I ShowSecurity Systems has been providing the valley of the sun with top-notch security systems for nearly four decades! Their knowledgeable staff can provide the best possible solutions for your industrial and commercial needs.
C&I offers and installs high-tech security systems, which include access control, badge readers, interchangeable door locks with master keys, and door lock sets. The trained professionals will evaluate your valuable commercial property to see which security systems are best for you.
Contact the team for an installation quote right here.
Types of Access Control Systems
These are the different types of access control:
Mandatory Access Control
According to Techtopia Mandatory Access Control by definition is the highest level of access control reserved primarily for government facilities like military bases. Due to the nature of these facilities, they must have stronger access controls since they house valuable resources and are often targeted by hostile groups. The core security of MAC is based on a security policy which is defined by the administrator of the environment and end users have no say in the security policy. Essentially a policy is set in place to create classifications of access for users and then the users are assigned access to facilities based on their individual classification.
Discretionary Access Control
Discretionary Access Control provides the lowest level of access control as stated by the National Institute of Standards and Technology (NIST). As an access control policy, DAC is determined by the object's owner or someone else who has been granted access to that object. This allows the owner to grant access based on a need to know basis to a user who can perform any of the following four tasks: pass information, grant privilege to other users, modify security settings for other users, and change rules for access.
Role-Based Access Control
According to Tedsystems Role-Based Access Control, is the most frequently requested type of access controls. RBAC systems assign access to users accessed based upon their role versus assigning it to an individual user. Since access is assigned based on the user's role the amount of information depends on what level the user is based on the organizational hierarchy are positions responsibility, for instance, the CFO would have more access than a bank teller because an executive has more responsibility than an entry-level employee.
Door Access Control System
A door access control system is one of the most affordable types of commercial access control commonly used in Data centers, Defense, Airports, Homes, Server rooms, Offices, and more according to Elprocus.com. Door access control systems can control access to your home or commercial building with electronic door locks, contactless readers, multi-technology readers, card readers (old technology), and biometric security readers.
Biometric Access Control System
Biometric access control uses eye scanners, fingerprint readers or hand geometry readers to allow access into your building. Biometric security readers cannot be transferred like keys, cards or number sequences can. The person being granted access must be physically present in order to gain access to your area or building. C&I Show offers professional installation of commercial biometric access control systems.
How Much Do Access Control Systems Cost?
Lowest Cost: $1,700
Average Cost: $3,000
Highest Cost: $4,300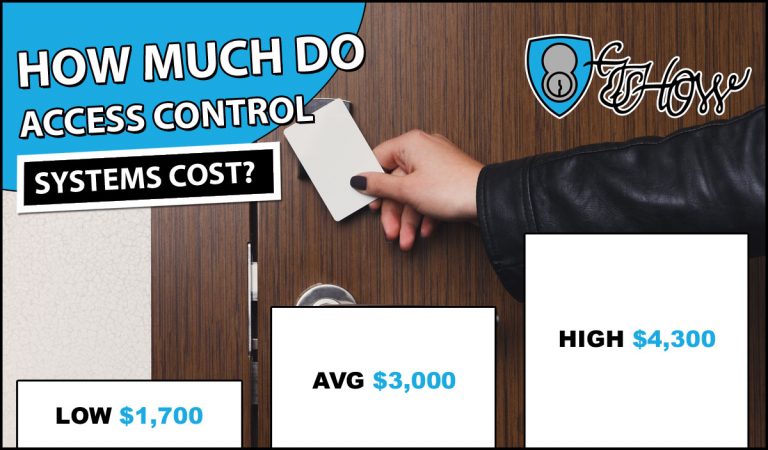 *Disclaimer – This is not an actual quote for your access control system. Contact C&I Show Hardware & Security today to get an actual quote for your access control system installation.
Access Control Benefits
These are just a few benefits associated with the installation of access control systems:
Ease of access for authorized personnel.
Saves money and energy.
Monitors who enters and exits an area.
Prevents unwanted guests.
Creates safer work environment.
Reduces theft.