Figuring out exact yearly costs for business security systems will depend on several factors, including size of the complex and type of systems requested. On average, you can expect to pay anywhere from $2,500-$3,000 for hardware components, $50-$6,000 for cyber security, $480-$1,440 for monitoring, plus an additional $300-$500 for installation. Let's take a look at cost details, according to Getkisi.
Surveillance Systems
Video surveillance and CCTV systems are commonplace in business settings these days. Constant monitoring of the environment will not only deter crime, it will make employees feel safer. Surveillance systems will also come in handy for any liability concerns or insurance claims.
Video cameras are very affordable, costing around $15 each. Indoor business units will cost an average of $99 each. Top-end systems for larger buildings can be priced upwards of $500.
Intrusion Detection
Intrusion detection systems are comprised of alarm keypads, motion sensors, control panels and window/door contacts in place to identify breaches to the physical property. These detection systems are typically powered by battery or electricity. A backup battery may be needed, as well.
On average, components will start at $30 each for contacts, with costs rising to $150 for a control panel. The overall price will be determined on the size of the property.
Environmental Monitoring
To budget for total business security costs, one must include environmental monitoring to protect assets and individuals inside the building. These sensors are used to detect any changes in the internal environment of the building. It will notify operators if any smoke, carbon monoxide or leakage is detected.
Detectors and sirens will start at $60 each. Panels can cost up to $300, while sprinkler systems cost $2 per square foot.
Access Control Systems
There are actually three different types of access control:
Mandatory Access Control is the highest level of access control, usually utilized in government and/or military facilities. Security policies are set in place for classifications of access. Role-Based Access Control is the most requested access control system because of its level of security and affordable price. With this control system, users have the ability to set security preferences. The lowest level of access control is the Discretionary Access Control. Just like the Role-Based Access Control, the user is free to set security preferences with the Discretionary Access Control.
If you are installing an access control system with locks already in place, you can save money. Most installations will hit the low end of the average costs, typically running around $2,500 per door with existing locks. Prices can range from $1,700-$3,300 when locks are already on the door. This price range also includes the $600 basic door license.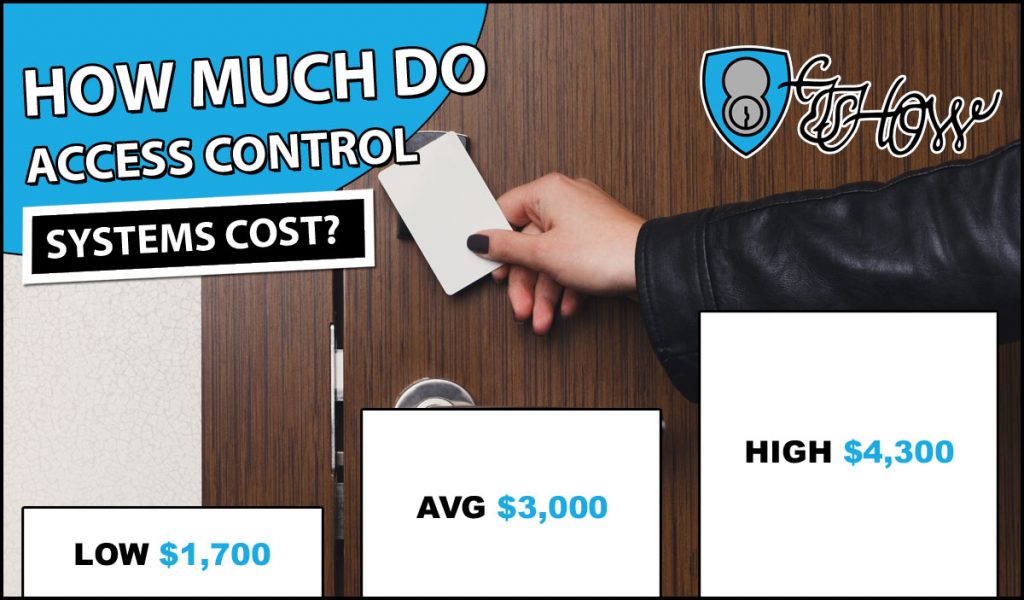 *Disclaimer – This is not an actual quote for your access control system. Contact C&I Show Hardware & Security today to get an actual quote for your access control system installation.
Automatic Door Openers
An automatic door opener is either a pneumatic or electronic device that is retrofitted to an existing door. This can be utilized for a business or home, allowing any doors to be opened or closed automatically. The four sub categories of door openers are motion detector, push buttons, handheld controls, and a combination of the previous three. Typically, automatic door openers will be divided into residential or commercial categories. These categories are crucial when it comes to determining costs.
An automatic door opener costs an average of $2,122.80 in the U.S. in the year 2021. Prices for this piece of valuable equipment will range from $1,458.25 all the way to $2,787.35.

Cyber Security
Of course, security threats to your business are not always physical. Cyber-attacks have dire consequences for your data and network.
It is vital to secure the various facets of this approach, which includes:
Network and IT ecosystem.
Data.
Applications.
Cloud software.
Hardware.
Cyber security costs will come in around $1,400 per year.
Alarm Monitoring
The biggest cost component of monitoring will be for alarm/intrusion detection system(s). This is to ensure that the monitoring center will be notified immediately regarding any sort of disturbance.
Business owners should expect to pay a monthly fee between $40-$120 for monitoring services. Check with your provider to see if you can pay annually, if desired.
Conclusion
Ultimately, your overall security costs will depend on the size of the building, level of integration and types of systems installed.